Download One Pager Info about The Trade Desk (TTD) Creative Connector here
---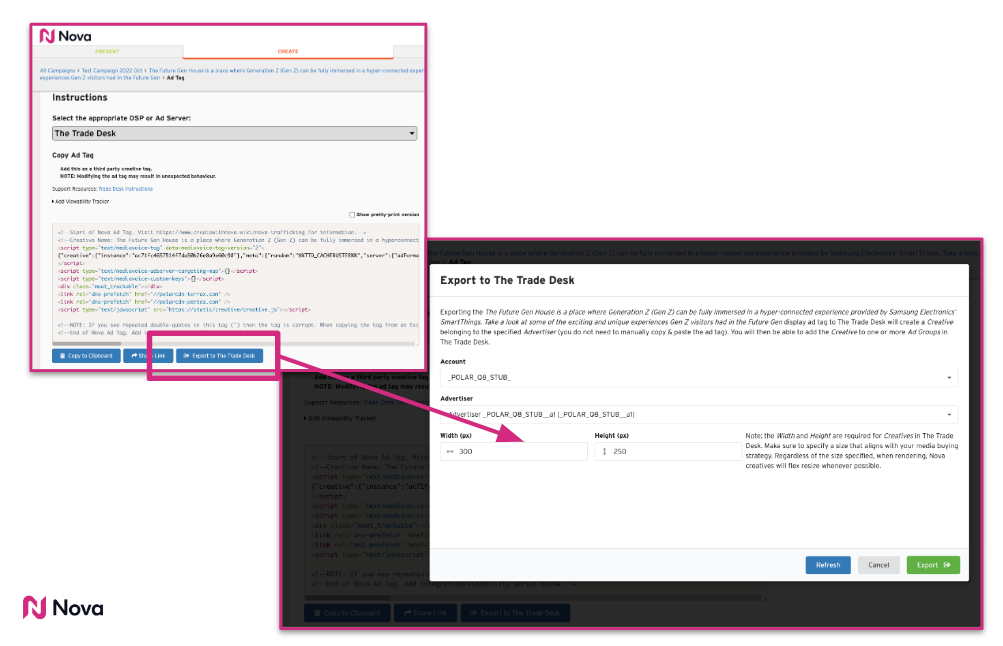 This is one of Nova's newest features that enables you to export Nova tags directly into The Trade Desk (TTD) DSP Platform using API. With this feature, you no longer have to manually copy the Nova ad tag and paste it into TTD, saving you time and effort.
Overview


Feature requires a one-time API account setup for The Trade Desk customers.
Offers a simplified & faster ad tag trafficking workflow. Ad tags no longer need to be copied and pasted manually between systems, they can be exported via API
Support for multiple creative sizes during ad tag export makes campaign setup easier
Account Setup


Getting the Creative Connector activated in your Nova account is quick and easy. First, connect with your Trade Desk Account Manager and ask for API access. Once your Trade Desk Account Manager provides you with the necessary account credentials, send a message to our support team and include:

Trade Desk Partner ID
Trade Desk Username
Trade Desk Password


Using the Connector


Navigate to the ad tag for the creative




Select The Trade Desk from the dropdown




Select "Export to The Trade Desk" option




Verify the account you want the Creative built under




Select the Advertiser for the campaign




Input the Width and Height for the creative





Exporting this ad tag will create a Creative belonging to the specified Advertiser. You will then be able to add the Creative to one or more Ad Groups in The Trade Desk.
Need help in setting up The Trade Desk (TTD) creative connector? Send us your request to support@createwithnova.com