Learn about DV360 trafficking guidelines for Social Display with Nova ads.
Download One Pager Info about DV360 trafficking guidelines here
---
Add Nova Creative as Third-Party Display
In Creatives, click the New button
Select Third-party Display under Third Party
Creative Configuration
Enter a Creative Name
Enter Dimensions as 300x250


Note: You may add an additional creative as 300x600 using the same Nova ad tag. We also support 320x480 and 336x280 size

Do not check

Do not scale to fit device width
Requires MRAID
Requires HTML5
Expands on hover

Paste the Ad Tag from Nova as-is

Optional: Append viewability script (e.g. MOAT, IAS, DV)
directly below tag
Note: Tag is truncated in screenshot for illustrative purposes

Ignore macros warning message
Enter the Landing Page URL

This is not used from DV360 but is a compulsory field and needs to be filled (landing page URL is configured in Nova)
This must be crawlable in order to be approved by DV360.
Preview
After finalizing the creative details and pasting the Nova tag in the Third-party tag section, you can preview Nova creatives in DV360 using the PREVIEW button.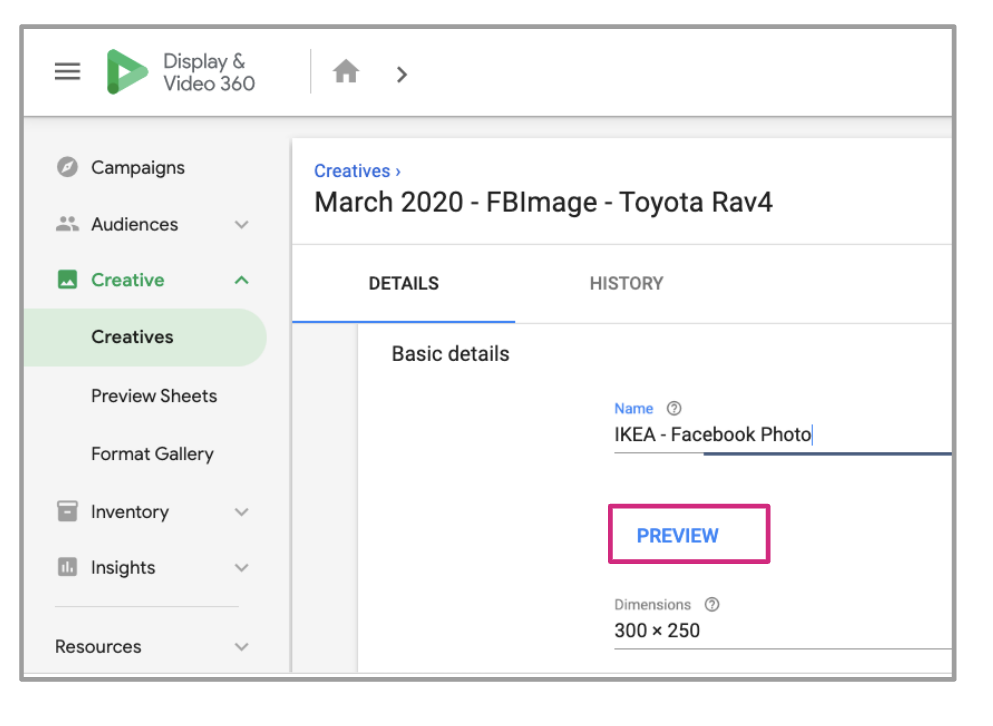 Audit and Exchange Review
All creative tags will go through a review process that consists of the following:
Creative and landing page review: this represents DV360's own review of the creative's behaviour and landing page
Content and policy review: this represents DV360's own review of the creative's content
Exchange review: this represents the review from the targeted ad exchange
If your creative is rejected, try re-submitting the same creative. If it fails again, contact support@createwithnova.com

Known caveats with Nova creatives:
Videos greater than 5MB (i.e. 15 seconds) will be rejected by Google Ad Manager exchange (it will still be servable on other exchanges)
Carousel creatives with multiple landing page URLs from different domains will be rejected
Restricted advertiser verticals: to serve ads promoting restricted products and services (e.g. tobacco), you must apply for certification.
See: Google's help article on Restricted products and services.
The overall status should read:
Approved, Servable

If the creative is rejected by Google Ad Manager exchange it will still be servable on other exchanges. The status in this case is:
Rejected, Servable
Nova Fees Setup
Optional: Include Nova CPM fees in DV360 to track campaign budget spending
1. Click "Partner Settings"
2. Click "Partner Costs"
3. Enter the amount in CPM fee
4. Select Third-party Ad Server